OK Classic 2014
At a very sunny Swanage Bay, 95 kayak anglers took to the water for the annual OK Classic 2014 kayak fishing tournament. Fishing was tougher than the previous two days out in the bay with last years champ who had recorded 10 species over the previous two days struggled to get past 1 species after 2 hours of fishing this Catch, Photo, Release tournament.
After 5.5 hours afloat the winner of this years tournament was local kayak fisherman William Chellingworth with 8 species, William won the top prize of an Ocean Kayak Big Game Kayak. Last years winner Mark Radcliffe and favourite for the event had to settle for 2nd place with 7 species he took away a Garmin Virb Action Camera. And finally in 3rd place Raymond Cole also with 7 species but was slower getting back to register his catch pushing him back a position.
​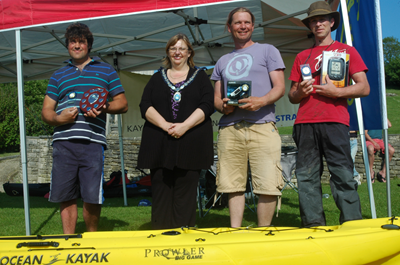 The tournament marshals voted for the Best fish of the day and winner of a Spro Triffic Rod and Spro Urban 520 Reel, the winner was Brian Chapman who caught the only conger during the tournament. One other stand out fish caught during the competition but not registered till after the event (the competitor thought it was another Ballan) was a rare Baillons Wrasse, a shame as this would have had my vote.
First junior was Matthew Torrington who received a fishing rod courtesy of Swanage Angling Centre.
A total of 19 species were recorded during the event with only three of these being micro species.