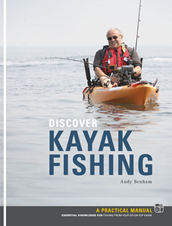 Discover Kayak Fishing by Andy Benham
If your haven't taken the leap and purchased your kayak, or are just taking your first steps out on your new kayak, then you will be intersted in Andy Benham's excellent new book, Discover Kayak Fishing, ISBN: 9781906095222.
​
Andy who lives down in the South West of England resides under the name Pugwash on the AnglersAfloat forum, has been a regular sight at AnglersAfloat meets up and down the country, when he's not out on the water Andy writes kayak fishing articles for Sea Angler magazine.
​
Discover Kayak Fishing is published by Pesda Press Ltd and this is the third publication of theirs that I have enjoyed. Their publications are always well designed, clear and well illustrated, and so far been an easy read, Discover Kayak Fishing is no exception. Andy takes you through choosing your first kayak, the first paddle, gear selection and fitting out. Andy has also written sections on the important subjects of tides, weather, charts and general seamanship, he's made these technical subjects very easy to understand. If you need some help with your fishing Andy has given some basic help here as well.
​
Discover Kayak Fishing is a great read even for those with a few kayak fishing miles under their belts. It can be purchased online from Pesda Press and the cost is a very reasonable £11.99.
​
Two other books that might be of interest from the Pesda Press range and highly recommend by AnglersAfloat are: Sea Kayak Navigation by Franco Ferrero, ISBN: 978-1-906095-03-1 (£9.99) and Sit-on-Top Kayak a Beginners Manual by Derek Hairon, ISBN: 978-1-906095-02-4 (£9.99).
​
Visit Pesda Press for more details and to purchase online.