Anchor Trolley/Gunwale Lines
First test was with a piece of standard low stretch 4mm anchor trolley rope. I've had trouble cutting this in the past with safety knives. The Safety Fast Cut Knife went through it like butter.
​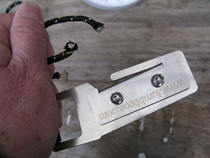 Paracord
Paracord, some still use it for mud anchoring in shallow waters with a hand winder. Cut cleanly through.
​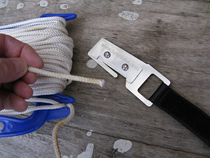 Anchor Warp
4mm Anchor Warp as comes with most Diver's SMB reels. A stiff tightly woven multistrand line. Cut with ease.
​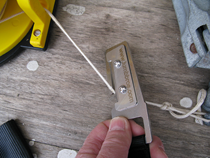 Strap Webbing
Standard webbing as found on many hatches. Due to the adjustment to the blade to accommodate the finder lines the strap was too thick to run down the blade.
​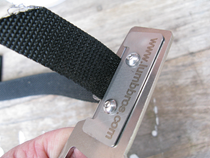 30lb Mono Fishing line
30lb mono leader. A much thinner line at .55mm again no problem with cutting through this, even when the line was slack.
​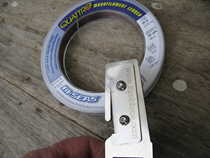 10lb Braid
10lb Spiderwire, quite a stiff braid. The line didn't cut when slack, it went under the blade and got trapped. When the line was held tight it cut with ease, not ideal.
​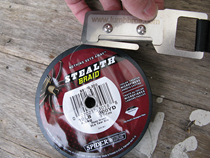 Overall
For the vast majority of the items we cut it went through with ease. The fact that braid tangled was a concern as this could be the item easly tangled up in.
​
The only time that I have seen somebody needing to cut themself free in an emergency involved the anchor and trolley, the angler was being dragged under by a half deployed anchor in a strong tide, both of which in this test were cut with ease.
​
Longevity of the blade and handle in saltwater, only time will tell, the blades can be replaced and I suspect could rust, most sharp blades do.
​
The Safety Fast Cut Knife is available from: