​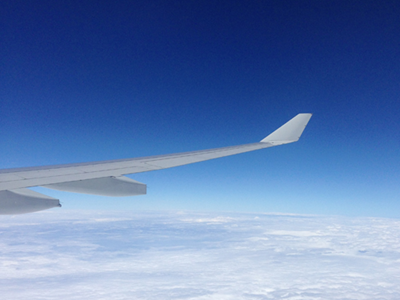 ​
After 26 hours of travelling we had finally arrived in Melbourne, Australia, Ian Harris and I, Hobie Fishing Team GB, were on our way to the 3rd Hobie Fishing World Championships in Gippsland, Victoria. Three days of competitive fishing against 43 of the top kayak fishermen in the World. We would all be fishing from identical Hobie Mirage ProAngler 14's kitted out with Lowrance 5 HDi finders, and Power-Pole Micro Anchoring Systems.
​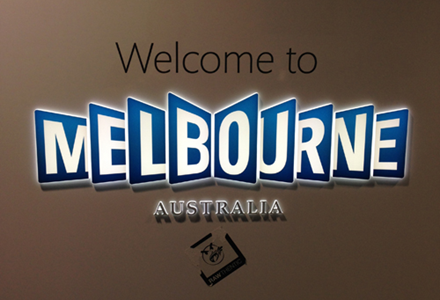 Our first day in Australia was going to be more travelling, 5.5 hours of driving down the M1/A1 to the first venue Bemm River, armed with our tick list of must see Australian wildlife.
Its not easy driving past tackle shops at the best of times and in a new country hyped up for a tournament it was even harder, we nearly drove past Get Wet Outdoors but doubled back when we saw some fishing kayaks in the window. Andrew Mangion the owner, www.getwetoutdoors.com.au, had all the lures we had been searching for, Australian lures are not cheap at $18-$25 each, but we filled our boots along with having a couple of reels spooled up with 3lb nanofil and leaders tied on with the FG knot, I'm still finding a bitch to tie first time. We left Get Wet Outdoors around 6pm and carried on with our journey arriving at Cosy Nook Flats, our accommodation close to the Tournament Launch at around 9pm, the rest of the guys from the European Team were all booked in and it was beer o'clock.
​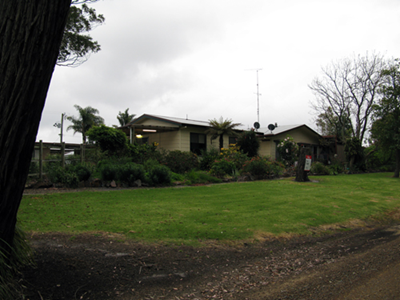 Cosy Nook.
Wildlife ticked off the list, Kangaroo, Wallaby, Cockatoo's, Galah's, Parakeets, Pelican's, oh and Huntsman Spiders!
​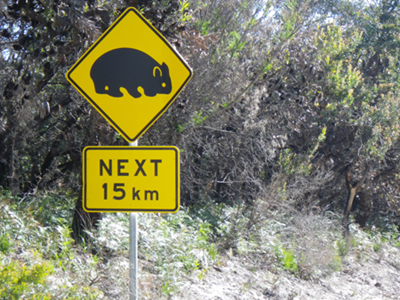 We had hoped to fish Tamboon Inlet the next morning to try out our new Daiwa Gekkabijin outfits and bed the braid in on some feisty bream, however a total fishing ban had been imposed by the Tournament Officials, with that surprise turn we were chaperoned for a day of more tackle shops and a bit of site seeing along with the rest of the European Team. We were however allowed to have to check out our kayaks that were all set out at the launch site, they looked awesome; the PowerPole Micro Anchor though looked a bit gimmicky wasn't sure about them to be honest.
​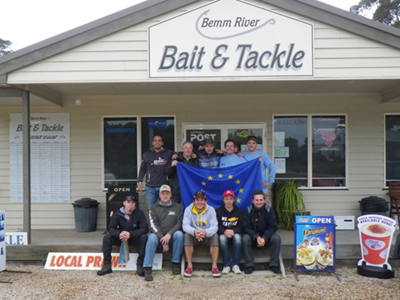 Another Tackle Shop
Registration for the tournament took place that evening in front of the launch area. It was time to meet old friends from the 2012 Worlds and introduce ourselves to the new competitors and also pick up our tournament jersey's along with a captains bag which included lures, braid and fluorocarbon from some of the Tournaments sponsors, Daiwa, Power-Pole, Ecogear, Atomic and Z-Man and TT Lures.
​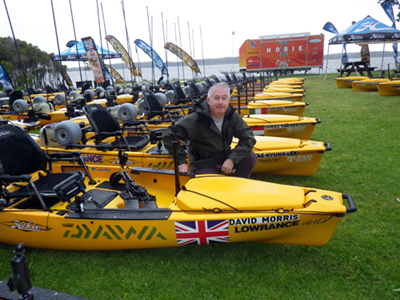 This baby was all mine
Day 3, was prefish day, we were finally going to get out on the water. Each International competitors was teamed up with an Australian guide, it was the guide's job to get us out and onto the Black Bream, which was our target species for the whole event. I was lucky enough to be drawn with Scott Baker, the Hobie Fishing World Champion in 2011. Scott took myself, James Darke from New Zealand and Morgan Promnitz from the USA out on the water, we were told to use a deep diving chubby even though we were fishing in only 3ft of water, getting the lure into the silt and bouncing it along the bottom on an incredibly slow retrieve.
​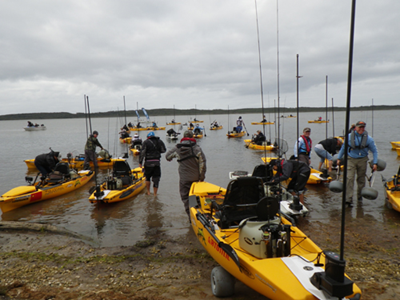 Launching for the prefish
Well to cut a very long day short, we all blanked… except for Scott, who had a single fish. This was the story for most of the internationals except for a few lucky ones; I have a feeling the idea was to keep us away from the easily spooked Bream so they were in place for the main event, but show us how to fish for them, it worked!
That evening Kangaroo was on the menu, I could eat that every week, it was a top steak.
​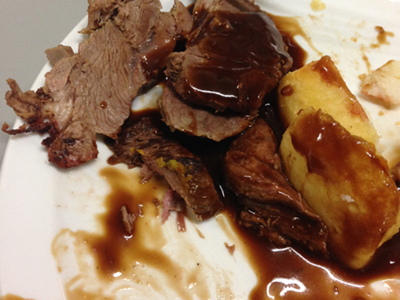 Kangaroo, yummy
​
Early start on Day 4!
5am breakfast and then rigging up for a 7am start line. Ian and I had a game plan.
​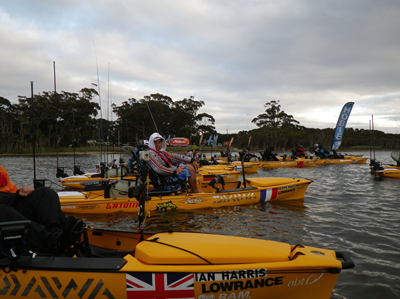 Herve Martin and Ian Harris ready for the start
With 45 Hobie Pro Angler 14's on the water waiting to cross the line, the countdown began. And we were off. I headed off to the first mark Ian and I had chosen, but Ian was heading a bit further up the lake than where I thought we had agreed, so I carried on my heading. On the far side of the lake, I engaged the remote and lowered the Power-Pole that was so easy. Herve Martin of France was already fishing, he was in slightly deeper water than I wanted to fish, so I moved closer to the shore.
At the morning briefing we were told that we were in for a sunny day with the wind building peeking early afternoon so I was keen to stick to the plan and get some fish in the net early.
I made a few fan casts with my Daiwa Gerkkabjin outfit which was set up with 4lb fluro right through and an Atomic Mid Chubby in Ghost Gill Brown. Having covered the area I decided to move along, a quick press of the Power-Pole remote and up came the Micro Anchor and I drifted 20ft down the lake. Micro Anchor engaged I started to fish again. Something hit the lure, another cast in the same direction and it was fish on, heart pounding and with the spool screaming I was into what I hoped was a bream. With such light tackle you are winding like a crazy fool against a spinning spool, it's a system that definitely works because my first Bream was in the landing net. I checked it against the official rule and it was just over the minimum size of 29cm to the tip of the tail, I was on the leaderboard. I carefully put the bream into the live-tankwell behind me and carried on fishing, almost instantly I was into another Bream, cool, only 8:15am and I had to fish in the well. Herve meanwhile was catching Flathead, he wasn't happy. Then it was a Flathead for me, they are like the dogfish of Australia, and like our dogfish are meant to be good eating.
​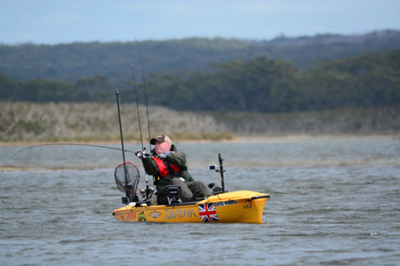 Giving it some
I carried on down wind and tried all the bays, I had wanted to fish Mud Lake at the bottom of the estuary, but the stream leading into it was very shallow and I was worried with the falling tide that I might not get out.
The wind was starting to build and I was struggling to get bites at the bottom of the lake and talking to some of the other competitors they had all been struggling to hook up. Ian came over with a huge fish in his live-well, from the tail section I could see it looked like a bream, I couldn't get a good look at hits head, it was a big Estuary Perch, nice fish but no good today.
I headed back up the lake, I knew it would take at least an hour to get back level with the launch, I tried several more spots on the way back, but with no luck. With time marching on it was time to head closer to the finish; a late check in meant a hefty penalty. I lined up close to the shore and started throwing Squiggy Riggler, a favorite Australian bream lure followed by a few hard bodies, and finally my Ecogear blades. Then Scott Baker flew past me and anchored about 20ft off the beach and threw what turned out to be a Squiggy, first cast he had a fish, his third bream for the day.
​
Game over.
The event had a live weigh in, competitors taking fish from their live-wells to the holding tanks and then onto the weigh in on stage in all happening on live TV. The fish were then returned to the sea… alive.
​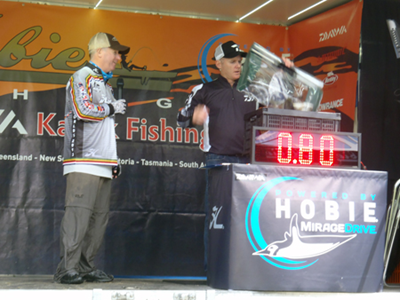 Day 1, weighing in
​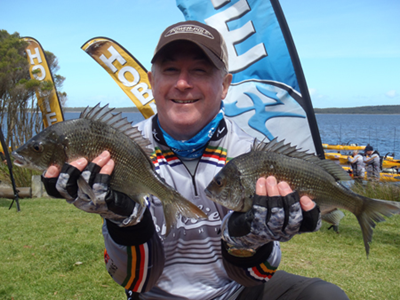 Two Bream for me
​
It was good to be on the scoreboard, even if it was only 26th. It was a good start and I could have done with another day at Bemm now I kind of knew what I was doing. Sadly it wasn't to be, we had to pack up the Hobie Pro Anglers and travel off to the second venue, Marlo, about an hours drive from Bemm River and more tackle shops!
Top three finishers on day one were:
1st Justin Carter, USA
2nd Richard Somerton, Australia
3rd Jason Meech, Australia
Day 5 was a navigation day, no fishing, but we could scout the location and set marks on the finders. Marlo is a huge waterway and we were told the fishing was harder than Bemm, but the fish were much bigger. At Marlo we were joined by a further 60 kayak fishermen from the PJT Hobie Bream Fishing Championships, they would be competing along side us for the next 2 days.
​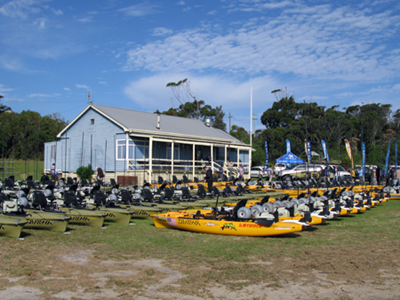 The line up at Marlo
On arrival back to shore we were ushered into the European Team Bus and taken off for team talk to discuss our findings, but not before a bit of Whale watching. Two whales were giving a display just off the entrance to Marlo River, something I had always wanted to see and something to add to our Wildlife list, we didn't expect to see Whales!
​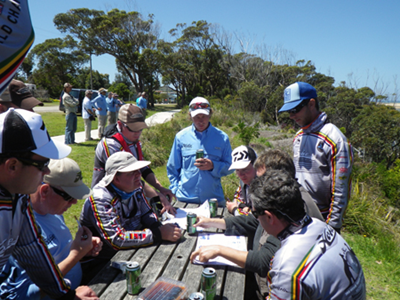 European Team Talk
​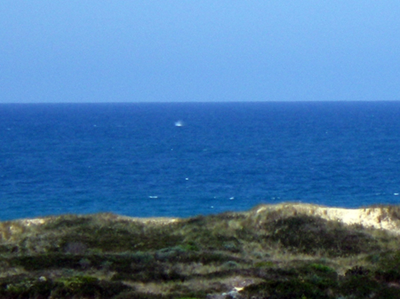 The white splash, yeah that'll be a whale
​
Day 6, 103 Hobie Pro Angler 14's lined up on the floating start line. Team Europe had decided to head up towards the second island, there had been a lot of fish showing in this area. The plan was to then head up the river, whilst some of the European Team would fish the lake.
​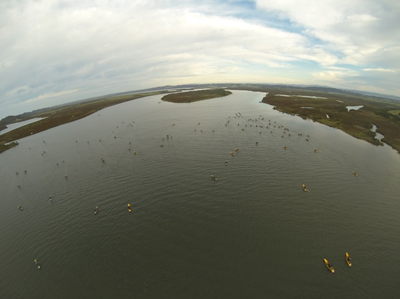 That's me in the yellow kayak
I threw a few lures whilst heading up towards the island, trolling was strictly against the tournament rules.
I didn't see any Bream, or see any Bream caught. At the top of the island there were kayaks everywhere, I got in out of the wind and sat in deep water, casting a matt black Ecogear Blade, bang first cast fish on, the reel was screaming, and the fish was getting close, I saw its flank and it was a good size bream, but I couldn't find my landing net, it had been down beside me on the peddle up, I made a grab for the net, slack lined the fish and it was gone, and the air turned blue.
​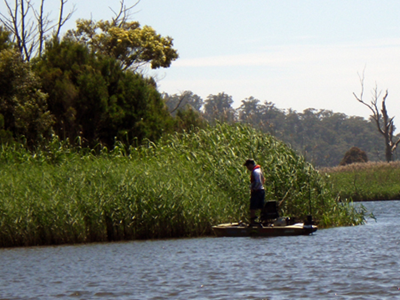 Where are those damn bream?
The bite turned off, and everyone headed to new marks.
I headed up the river where I had seen a lot of fish on the finder the day before. Catching a few Tailor on the way, nice fight, but not going to get me to the weigh in.
​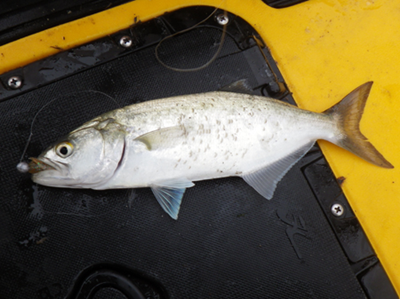 Tailor, you really wanted that Squidgy Wriggler
I peddled up another channel and started to fish a nice grass banked eddy. A few casts towards the bank and I had a massive take, this fish was going crazy in quite shallow water, it ran around the kayak and I had to bring up the Micro Anchor just incase my quarry ended wrapped up! Then it showed itself, it was a good size flathead, I really didn't want it today, and their rough skin wears through Fluro leaders, so I slack lined it and off it came, wish I hadn't to be honest, it would have made a good photo.
​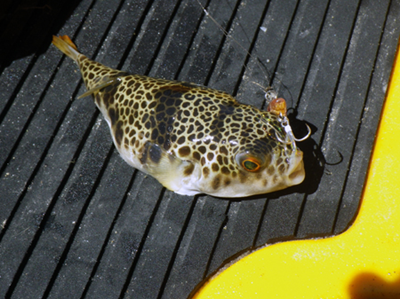 Puffa Fish
I had a few more Tailor as I headed down towards the estuary mouth still no sign of bream, I decided to down size to a tiny hard bodied prawn. There was about 30mins still on the clock. Casting out into the channel from a white sandy shoreline I had three puffer fish follow the lure up. Second cast I hooked one, then another and another, time to head back. With nothing to weigh in I was gutted. As was my wife Tina, she was getting up to watch the live weigh-in's back in the UK.
​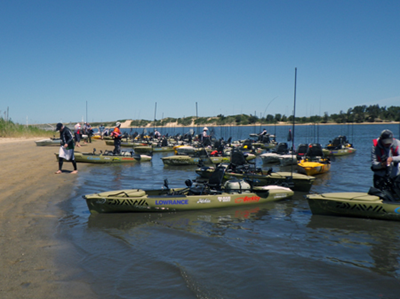 Coming ashore
In first place on day 2 was Australian Richard Somerton, he had peddled 13km up the river for his three fish, he must have been confident they would be there!
Day 7, Forecast was high winds, gusting upwards of 80kph by early afternoon. The event organiser's made the decision to cut our fishing time, all kayaks to be ashore by noon.
At our team talk the night before we had decided our best chance of Bream was to fish the lake, although it would be very open and very difficult to get out from once the wind came through and the tide had dropped.
​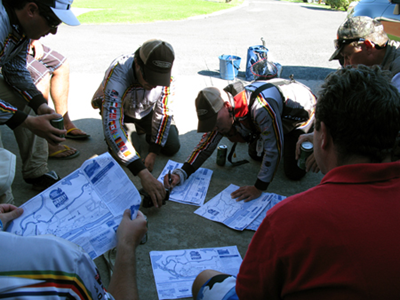 Putting a plan together
Five of us from the European team made the Lake and started to fish, it was horrible, I gave it two hours without a bite, moving around the flats and getting battered by the growing wind blown waves. By the time I left Dennis "Bombom" Skou from Denmark was the only European left in the Lake, he was going to stick it out till the end as was his plan.
​
Dennis 'BonBom' Skou going over the plan
I moved about seeking some shelter from the now 60kph gusts, I started to lose lures trying to fish around the sunken trees and features. I was getting hits, but not getting hook ups. After slowing down my retrieve from very slow to just about moving I had a fish on. It had fallen for my now favorite Atomic Mid Chubby in Ghost Gill Brown, and it wasn't a Tailor or Flathead! Damn it, Mullet! This was followed by three more!
​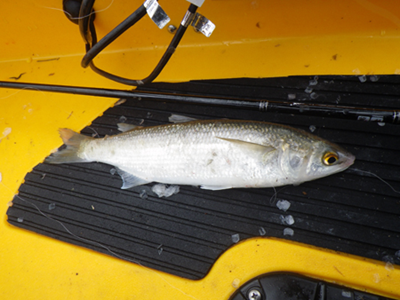 Mullet
​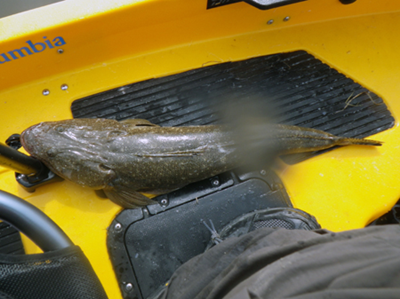 Flathead
​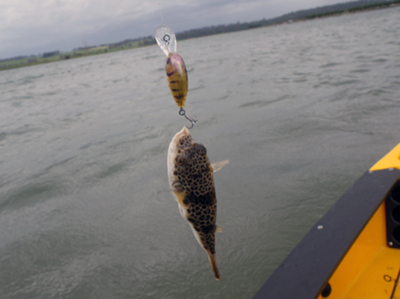 More Puffa
​
The wind by this time was off the scale, combined with a dropping tide it was getting a little hairy so I headed towards the finish, making a final dash across the very open river it was interesting to say the least, to give you some idea waves were coming over the gunwale of the high sided Pro Angler 14, thankfully everyone got back in one piece, no capsizes. I'd earned a beer that's for sure.
​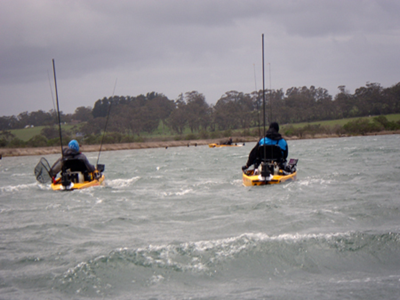 Its getting rough
Dennis arrived back just after me with only a few minutes to spare, he had caught his three bream, all around 11am leaving just enough time to head back. The conditions had worried him, but he stuck by his plan knowing he could walk back to shore if he had a problem.
​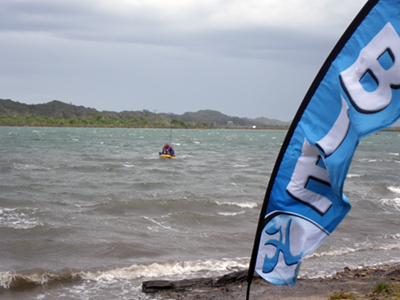 Last man back
Fishing wise I'd had a frustrating couple of days, caught some interesting fish who had fought well on the light tackle, but trying to get in amongst the Bream had proved difficult for me and many of the competitors, some of whom didn't get a bream during the whole tournament, although we all had plenty of other species.
The Australian Team creamed it; well they had to after such an abysmal Olympics and then the Cricket.
First place was taken by a much deserving Richard Somerton, second Chris Burbidge and third Grayson Fong
​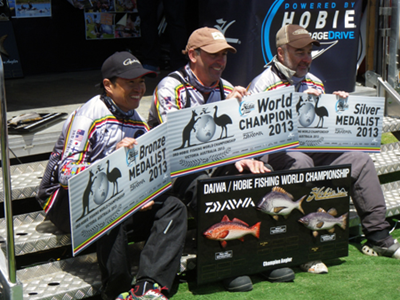 The Winners
Well that was our time at the Hobie Fishing World Championships over. Time to celebrate in the bar, say farewell to our many new friends and then head off for Mornington, just south of Melbourne for Week 2, Ian and I were already preparing for some Snapper fishing.
​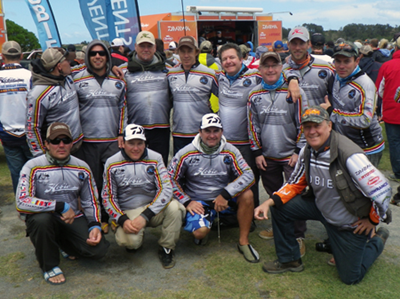 Hobie Team Europe
​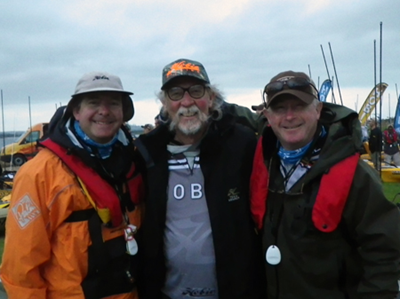 Ian 'Dizzyfish Harris', Bob Findlay and me
​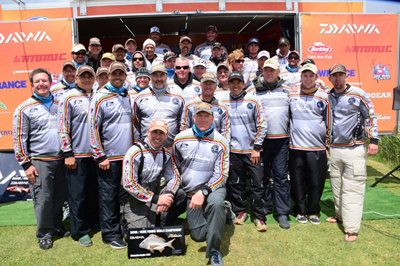 Hobie Fishing World Championships 2013, the competitors
A massive thank you to Steve Fields, all the lads and lasses at Hobie Australia, the Hobie Australia Team, Hobie Europe, Steve Beard of Hobie UK and all the competitors, without all of you this competition wouldn't be the best kayak fishing Tournament in the world.
​
Hope to see you all in Europe next year.