Beulah Large Arbour 7/8 Reel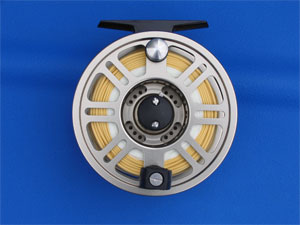 The new range of Beulah Large Arbour reels are built by BFR in their China factory. There are three reels in the range a 5/6, 7/8, and 9/10, Beulah supplied us with the 7/8 for review along with their Saltwater 7 wt Guide Series another new edition to their growing range, but we are going to concentrate on the Large Arbour reel here.

The series of Beulah Large Arbour reels are cast alloy and available in three colours, Silver, Gold and Beulah Green, the reel foot is black. The design is quite stunning, large cut outs in the spool face and holes drilled into the centre of spool to aid fast drying of the line and backing. The handle is plastic with a comfortable finger grip.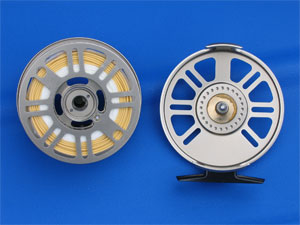 Spool removed, signs of corrosion showing on bush.
Spool release is via a sprung lever making the changing of spools a very simple affair even with cold hands.
The fully sealed drag is set via a large three sided wheel and is extremely smooth and easily adjusted.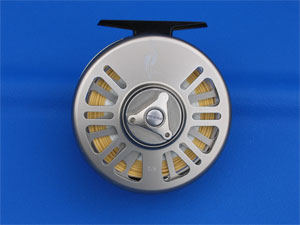 Reel back.
Described in the literature as corrosion proof we headed off for some saltwater action in the kayak, the reel was very pleasant to use and balanced the Beulah 7 wt extremely well, stripping line from the reel was uneventful, the drag controlling any likelihood of overruns which can occur at the most annoying times. Sadly the fish weren't playing so we didn't get an opportunity to test the drag, not that our UK saltwater species are likely to cause it any problems.
On return home, the spool was removed and the whole reel was given a good rinse in cold fresh water and left separated to dry as we would with any of our own reels. The following day the drag casing was showing signs of corrosion which was rather disappointing; this failing has been pointed out to the guys at Beulah.
Overall the Beulah Large Arbour looks and feels very well made, if your in the market for a new freshwater reel then the Beulah range is worth looking at, but for Saltwater your money would be wiser spent elsewhere.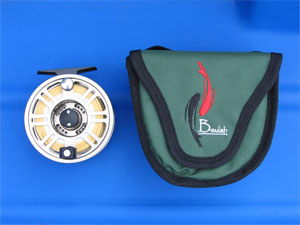 Reel bag supplied with all Beulah reels.
The reel is supplied in a strong padded case with the Beulah logo stitched onto the front flap which is fastened with a Velcro tab.
Give Beulah a call on 01420 489111 for your nearest dealer, mention AnglersAfloat and you might even get a discount!