Palm, Greenland Touring L/S Paddle Top
and Dart Paddle Trousers
Having worn various brands and styles of wetsuit over the last twenty years, I was more than a little apprehensive about swapping my old faithful wetsuit for this thin loose fitting paddle top for a long cold days fishing for Tope in West Wales. Slipping the bright orange and black paddle top over my rash vest and completing the outfit with a pair of Dart Paddle Pants (which also seemed incredibly thin), I was ready to launch.

As I entered the water I was pleasantly surprised that although I was up to my knees in water my legs were dry, good start. Paddling up the river towards the ocean I started to smile, for the first time since I had been kayaking I felt comfortable, no tightening around the forearm, no tightness around the belly or privates, it felt like I was in a T-shirt and shorts, yet so much warmer, the paddle top was doing an excellent job of keeping me warm and dry, but without sweating.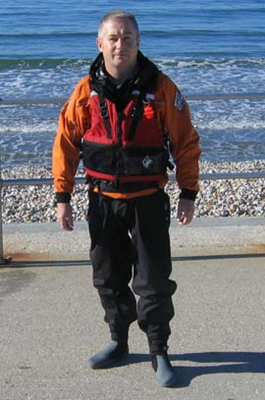 ​
We fished for nearly 7 hours that day, after an initial paddle to the mark, most of that time was spent sitting still waiting for the Tope to feed. Amazingly still warm. Converted, you bet, no more wetsuits for me, why bother when you can have the freedom, comfort and warmth of a Paddle Top and Pants.
That evening I left the gear outside to dry, it rained solidly for most of the night, in the morning both paddle top and paddle pants were dry inside, admittedly cold to put on but thankfully dry inside and they soon warmed up.
Another great reason for buying Paddle Tops and Pants, they fold flat for storage.
Greenland Touring L/S Paddle Top
Made of Palm's lightweight XP100™ waterproof, highly breathable material, the Greenland L/S has a bright orange (Gold) body and arms, a black hood with wired peak which can be adjusted to fit, or rolled down and secured when not required.
​
Slipping the paddle top on is made easy by a large water resistant zip. At the front there is a large pocket with water resistant zip. The hem and wrists have adjustable neoprene seals providing effective protection against water ingress. There is reflective piping on both sleeves.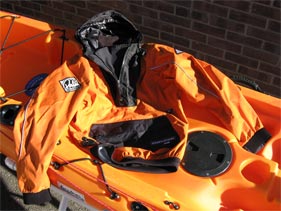 Dart Paddle Pants.
As with the Greenland L/S Paddle Top, the Dart Paddle Pants are made of Palm's lightweight XP100™ waterproof, highly breathable material, they have fully taped seams with a draw cord waist and high back giving more protection when sitting, the neoprene ankle seals are fully adjustable. They are available in black.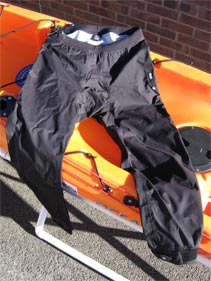 ​
Both products are very well made using high quality materials and include excellent design features, such as the square of Velcro which allows the cuff adjusters to sit flat when folded, the security D-ring inside the front pocket of the Greenland L/S paddle top and reinforcement material around the draw cords on both garments.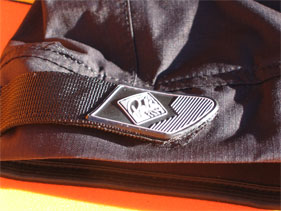 ​
Velcro strap on ankle of Dart Paddle Pants.