Ocean Kayak Comfort Deluxe Seat
The Comfort Deluxe Seat described is a pre production model, final fittings and accessories may differ on production models from those shown below.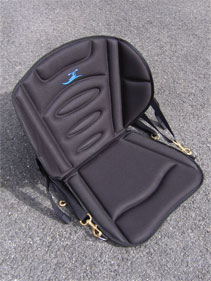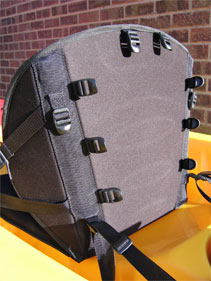 Our first pictures shows the use of the front D-rings turning the seat into a beach/camp chair. The second picture shows the accessory clips on the rear of the back rest.

Ocean Kayak Comfort Deluxe Seat Accessories.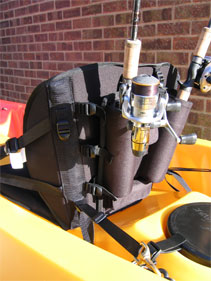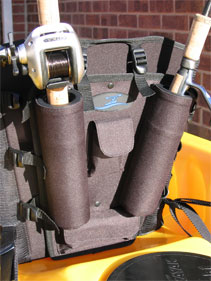 First up a rigid panel with two lined rod holders and two small accessory pockets with velcro flaps mounted to the back rest. The rod tubes are well designed and will accommodate both light spinning and heavier boat rod handles.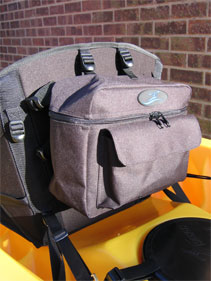 Storage bag with twin zip top and drainage hole in base. The main bag measures 26 cm wide, 12 cm deep and 20 cm high. Front pocket with velcro closure, 21 cm wide, 3cm deep and 12 cm high. Very useful bag for items required close to hand or when travelling light.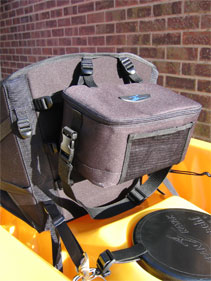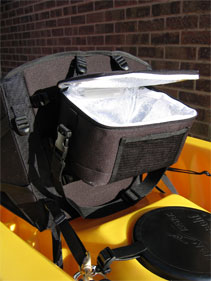 4 can coolbag with carry strap and mesh pocket. Inside of coolbag has a removable pvc liner for easy cleaning, makes it ideal for keeping baits cool, fresh and mess free.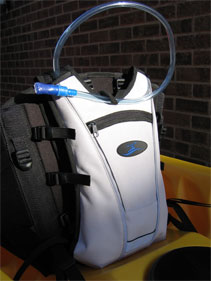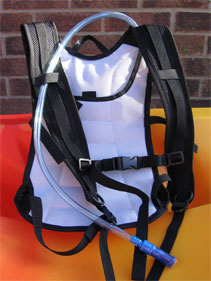 Probably the most interesting of accessories is the 2 litre drinks back pack, with removable bladder for easy filling and cleaning, great for all day sessions, it's very easy to forget to drink when out out on the kayak, but this would be a constant reminder. Best of all it has a set of shoulder straps, take it cycling, running or hiking as well. The pack has a small zip pocket on the rear and 3 reflective safety strips.