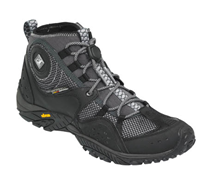 Palm Gradient
If your looking for a comfortable, lightweight, fast draining water shoe, then look no further than the Palm Gradient
​
The Palm Gradient is a joint venture with adventure boot manufacturer Merrell and its exactly what you would expect, a well thought out and technically superb boot, you might gather from this that I'm a fan, well yes I am. I hardly took them off during a 10 day kayak fishing trip in Florida last year and wore them for the rest of the summer season when I returned home.
​
The Vibram sole is very sure footed when things get a little slippery, with just enough stiffness so that there is no discomfort when scrambling across large pebbled beaches with your kayak in tow.
​
The soft neoprene high ankle design is very comfortable straight out of the box, no rubbing which can offten occur with ankle boots, especially when worn without a sock. Entry is easy and aided with a pull tab on the rear of the boot.
​
Water drains very quickly through the air mesh upper which also prevents any small stones and sand from getting inside and causing and discomfort.
​
The laces are easily adjusted with a plastic button cam which keeps the laces tight even in extreme circumstances. My only dislike is the length of the laces, they are far too long and required looping back over themselves so as not to annoy.
​
There are rubber overlays protecting all the vunerable parts of the boot so they should last for several seasons.
​
Overall the Palm Gradient is an excellent boot, give them a go they won't disappoint.
​
​