Gill Floating Polaroid Sunglasses
An important part of your equipment during the summer months is a quality pair of sunglasses. Being so close to the water it is important to protect your eyes from the sun and its reflected rays.
​
Having lost an expensive pair of sunglasses in the surf last season and not wanting to lose another pair, I was excited to find these two styles of glasses distributed by Gill Marine, both have been designed with water sports in mind. Most importantly they both float.
​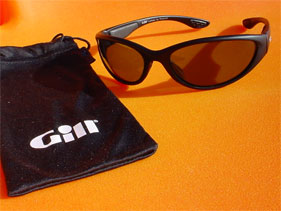 ​
The first thing you notice with the Gill Floating Polaroid Sunglasses_9473 is how light they are, the frames being made of a light flexible plastic, in a wrap around style which grips the head gently, but securely. For further comfort the arms have soft inserts in the areas around the temple and behind the ears. The nose bridge is also made of the same material.
The grey lenses are Polarized to category 3 giving 100% UV protection. The optical quality of the lenses is superb.
​
These glasses are not only excellent on the water, they also make excellent driving glasses with no distracting reflections around the edges of the lense.
​
The frames are available in Black, Navy, Silver or Metallic Red and come complete with a black cloth bag. Retail price £30.
​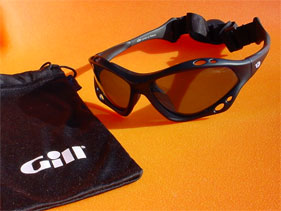 ​
The Gill Floating Racing Polaroid Sunglasses_9472 frames are available in Silver or Translucent Blue, they are of a more extreme design which grips the head comfortably and securely with the aid of a cloth strap and sliding toggle which attaches to loops on the end of the frames arms.
​
The frame and strap are slipped over the head and the toggle slid to the right until the frames are comfortably but tightly secured to the head.
​
There are four holes in the frames around each of the lenses, these allow any water that may enter behind the lenses to drain and prevent the lenses from steaming. The lenses are of the same excellent quality as the Gill Floating Polaroid Sunglasses being grey polarized and Category 3. They come complete with a cloth bag. Retail price £35.
​
Both pairs of sunglasses offer excellent value for money, my first choice being the Gill Floating Racing Polaroid Sunglasses which gives piece of mind even in the surf zone. Gill Marine will be releasing a further two new floating designs later this year.