​
​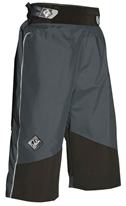 Gradient Short
When I was heading off for ten days kayak fishing in the sun I was looking for a pair of paddle shorts, something that would protect my thighs from stray hooks and the sun, but would also be comfortable to paddle in even in the hot conditions in Florida.
​
The nice people at Palm Equipment sent me a pair of their 3/4 length Board Short. Initially I was concerned about being to hot with the 2mm neoprene inner and they suggested that I might want to cut it out, I was glad I didn't, I may not have been so comfortable sat on a kayak for up to 6 hours in the sun. Back in the UK the neoprene keeps any cold water flushes at bay. The neoprene is also conveniently stretchy in all the right places!
​
The outer shell is very hardwearing and seemingly hook friendly, hooks just seem to bounce off. The knees and backside are reinforced with a Cordura Ripstop material which gives you extra confidence when hooks are bouncing around the cockpit area.
​
The waistband is adjusted with a pair of Palm badged velcro tabs on either side of the waist.
​
The only thing I missed with the short was a relief zip which has become so useful on my drysuits, however, this thankfully didn't become a problem!
​
The short has one water resistant pocket, I haven't and wouldn't trust it to any valuables such as car keys or mobile phone, its stated as resistant to water not water proof.
​
Finally as with many of Palm's paddle clothing there is 3M reflective piping running down both legs on the outer seam which also finishes the short of very nicely.
​
The shorts are a quality product which I have loved wearing both on the water and on the beach, worn throughout the summer monthsm both here and abroad. Once the water warms up the Palm Gradient Short really are a very comfortable alternative to a drysuit or wetsuit.