Skwoosh Pro Angler Seat
​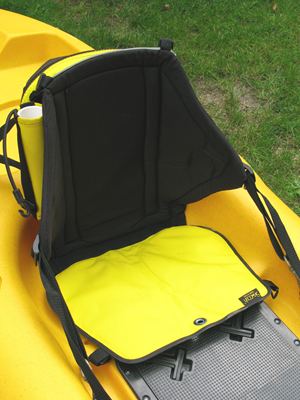 ​
Kayak fishing seats are a very personal thing. What is one persons perfect seat is literally a pain the backside for another.
​
We take our time reviewing seats, in fact we have had this seat for a very long time and its since gone through two more designs, although the basic seat I believe is much the same.
​
First thing I would like to report is that the components that make up this bright yellow and black seat are all quality products, the zips on the seat pack are chunky and have performed without fault, no jamming, no seizing which are both usually major issues overtime.
​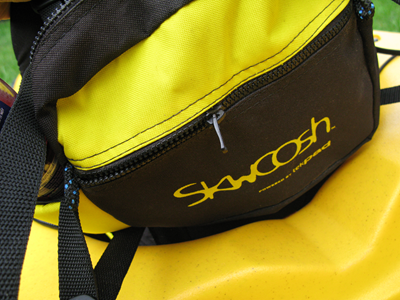 ​
Seat bag with smaller pocket with high quality zip undone.
​
The bag can be removed easily using the four plastic clips, the bag can then be slipped onto a belt using the two belt straps on the rear.
​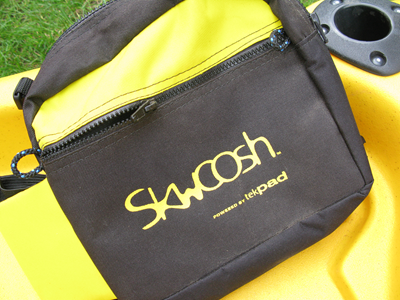 ​
Front of bag.
​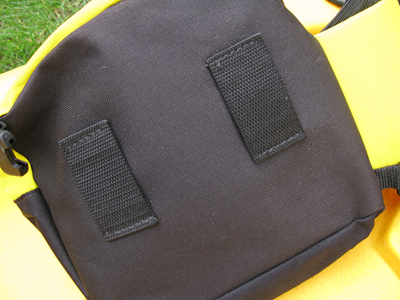 ​
Back of bag showing belt straps.
​
The brass seat clips which secure the seat to your kayak are indeed high quality marine grade brass, they have shown no signs of corrosion or jamming, this has been an area where other seat manufacturers should take note, we don't like compenents that are low quality.
​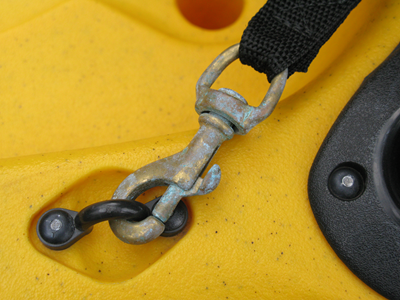 ​
Brass seat clip, has blued with use but still works perfectly.
​
The seat back is of a high back design which has added stiffness utilising a pair of fiberglass batterns it curves nicely around your body, this combined with an easily adjusted set of straps the back of the seat holds firm and wasn't prone to any twisting.
​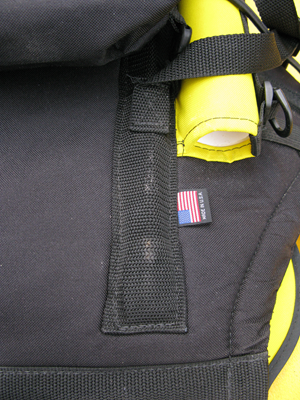 ​
Seat back battern in webbed pocket.
​
The back of the seat along with the large useful bag has a couple of features which I didn't think I would use, I hate gimmicks on seats, I was wrong. The rod holder on the right side of the seat has proved very useful for keeping my landing net in allowing me to still have a rod in both the rear flush mount when trolling lures. The opposite side has a water bottle holder, again very useful, there are also elasticated tool holders, I keep a pair of fishing pliers in one of these, it keeps them handy but tucked out of the cockpit area, these are all nice touches.
​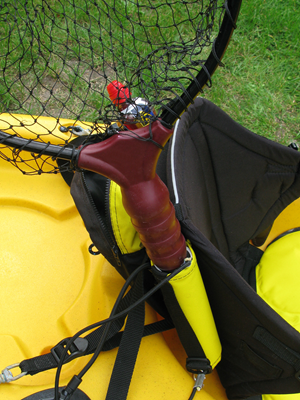 ​
Swoosh Pro Angler Rod Holder which holds a landing net well.
​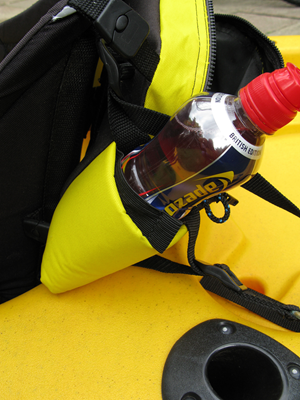 ​
Drinks bottle holder, elastic has been pulled out to show in photograph.
​
Now to the base of the seat and the comfort level. This is an area of contention for most seats and is here as well, some of my friends who use Swoosh seats find them incredibly comfortable, the pair of gel pads positioned perfectly for their body shape.
​
I've been using the Swoosh Pro Angler on my Scupper Pro. Its not the easiest kayak to find a seat for, the narrow curved seating area which is generally under a little water won't accept many of the comfortable seat bases, its just too narrow. The Swoosh fits well, I do find however that the seat base moves around a little and twists, the pads moving out of place leaving a less cushioned area under my backside, whilst a little annoying I can shift the pads back into position, I just wish it wouldn't do it. With a flatter seat area as found on the Prowler and Ultra kayaks I'm sure this wouldn't be an issue. This all said I would like to see a little more gel in the seat, the newer models may already have this included, hopefully I will get the chance to find out.
​
The main update to the seat since the model we tested is the addition of a large Plano tackle/lure box (fishing pack) which clips onto the back of the seat as a replacement to the standard back pack.
​
​