Kaskazi Drogue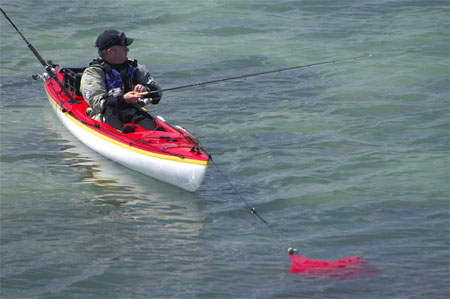 If your a lure or fly fisherman then you really ought to treat yourself to a drogue, I am amazed at how few kayak fishermen actually use one or even own one.
​
Why would you want one; well a drogue will slow your drift when being blown by the wind, thus allowing you to cover more ground with your lure or fly in the given conditions, it will not however slow you when drifting fast due to the tide and should never be deployed in strong tides.
​
The Kaskazi Drogue is made of a hi-visability orange rip-stop nylon which in the event of an emergency can be draped over your lap or the kayak to aid the rescue services in locating you.
​
The drogue has 8 lines running to a stainless steel o-ring, the large number of lines not only reduce the chances of the chute tangling, but also gives it a very efficient shape when in the water.
​
A further line runs from the o-ring and terminates with a loop, this loop attaches to the carabiner on your anchor trolley.
​
I first used a prototype of the drogue (red) in Guernsey which is shown in the photographs with the Red Kaskazi Marlin, The orange drogue in the last shot is of the final production model which is far more efficient and does away with the necessity of floats on the top lines to keep the chute open.
​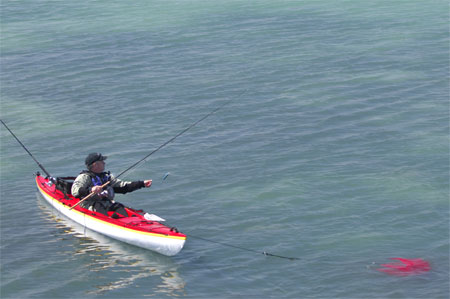 Time to try the Kaskazi Drogue and do a little fishing.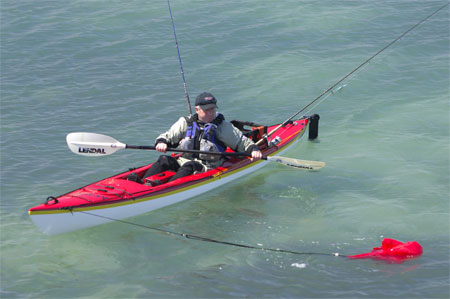 When your done with fishing, either pull the anchor trolley quickly forward to bring the drogue alongside and grab the chute, or if the drogue is already off the bow, then paddle forward, the drogue will swing around.
​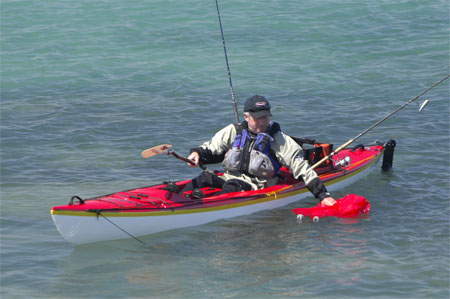 Once the drogue is alongside just grab it and lift, the water will quickly drain and the chute will collapse.
​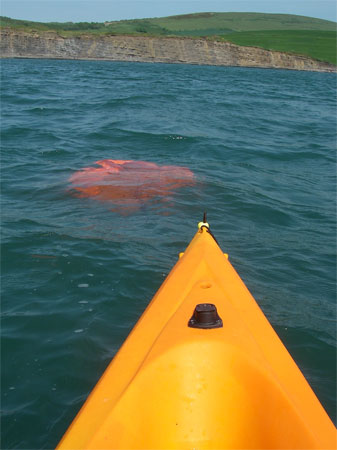 This final picture shows the final production model deployed from the stern of my Ocean Kayak Scupper Pro TW.
The Kaskazi Drogue is only available from www.kayakuk.co.uk
​