Kokatat Gore-Tex® Expedition Dry Suit
I've always wondered what makes the Kokatat drysuits so different apart from the price at £999.99 for the Kokatat Gore-Tex® Expedition most would give it a wide birth in store, however with a lifetime warranty and an expected life expectancy of ten years the Kokatat doesn't work out any more expensive, in fact it could work out cheaper than the other kayak fisherman's favourite drysuits.
I called SystemX the UK distributor for Kokatat to see if I could get hold of a suit for review, they didn't have a medium in stock but put me in touch with Gus at Escape Watersports and Stu one of our forum members picked it up for me on his way to the SWKA/Escape Watersports Llangorse Comp.
The suit comes in three colour options as standard, and if you want something special Kokatat offer a custom service where you can pick from a range of colours and combinations. I was sent the Mango with black trim. When Stu handed it to me at the Llangorse Campsite I was surprised at how light it felt, the Evolution 3.21 oz. nylon 3 layer GORE-TEX® material is a quite soft as well, unlike any of the drysuits I've owned some of which have been quite stiff.
To be honest I was a little worried about the comfort of the suit. I was going to be on the water for six hours and didn't want to find that the cuffs were to tight, the neck was rubbing or the socks were pinching my toes, resulting in cold feet, so the next morning I was apprehensive and considered wearing my old suit for the comp.
​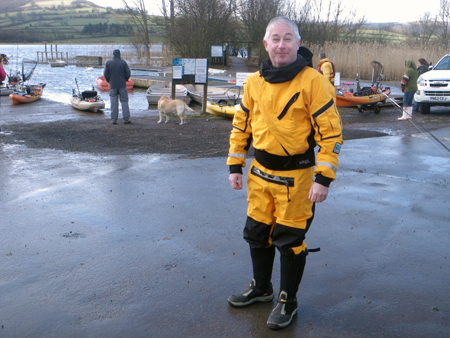 The suit is very comfortable
I slipped the Kokatat Exhibition over my thermal one piece and was pleasantly surprised how easy it was to get my feet in the canvas socks, they were a good shape as well, foot shaped rather than like a drybag which is the case with my own winter suit. The ankles of the drysuit have Velcro to adjust the fit your style of footwear, ankle boot or over boot.
​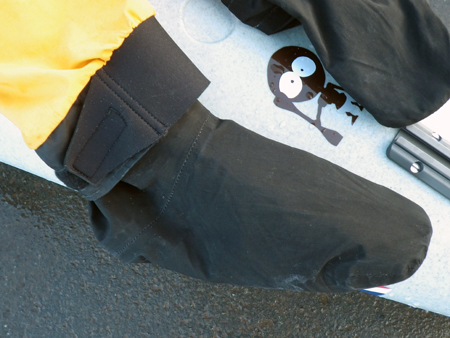 Latex Sock and adjustable ankle cuff
The waist (overskirt) has two adjustments, a drawstring arrangement and also twin Velcro side tabs to give a good comfortable fit around the waist.
​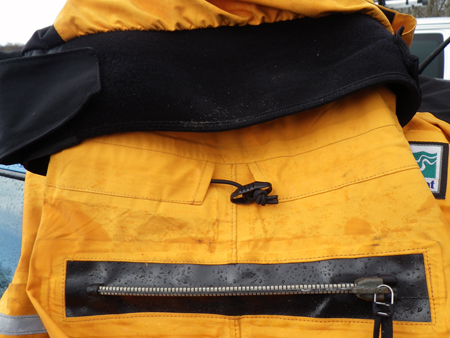 Double waist adjustment and Pee Zip
The arms were a good size, not monstrously baggy but with room for the thermal suit. The wrists have latex seals with a protective over cuff with Velcro tab adjustment for a good fit it was trimmed with solas tape for high visibility should the worst happen and you end up in the water waving your arms to attract your rescuers.
​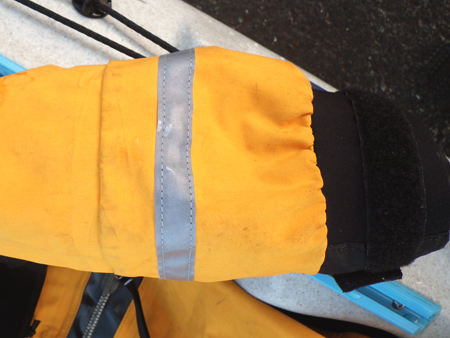 The neck seal is latex which can be trimmed for a comfortable fit, on a new suit these can be very tight, thankfully as a demo suit it was trimmed to fit, so no need to get the scissors out.
I haven't mentioned, but this is a front entry suit, the zip running over the right shoulder and down to the left hip, feels a little strange the first time, but something you'd get use to quite quickly. The Optiseal zip is a quality metal waterproof zip and is easily managed solo, no need to be a contortionist to do up on your own. The zip is covered by a flap which velcro's in several places to give a neat look, the front zip feels a little odd at first, but once you have your PFD on you know longer notice it.
​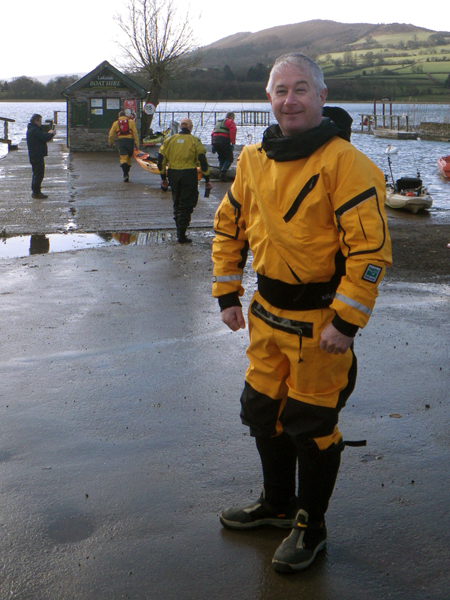 The suit was a very good fit, and felt very comfortable, you really notice the lightness of the material, you don't really know you have it on.
Once out on the water one of the first things I noticed was that the pee zip wasn't digging in or rubbing annoyingly on my leg, talking to some of the lads at Llangorse this is a pain for others, so not a height thing before anyone suggests it, it was also very easy to use, it's OK Gus, it was a dry run!
The weather at Llangorse changes by the minute during March and as a Squall approached over the lake I was happy to be able to pull up the stowable storm hood, it was well shaped, with room for my woolly hat underneath, a pull cord allows for adjustment around the face for windier conditions and there is also adjustment at the rear to stop the peak falling over your face. The bottom front of the hood comes up above the chin/mouth and has a soft material added to the inside to add to your comfort.
​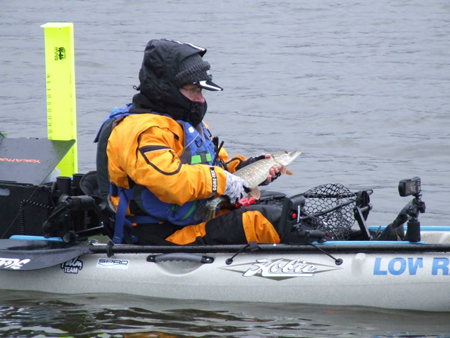 Photograph by Michael Tweed
Other features of the Kokatat Expedition are pockets on both arms with water resistant zipps and a larger breast pocket over the left breast. The hood and cuffs have solas tape trim as a safety feature, knee and backside areas are covered with a reinforced panel made from Cordura® rather than the yellow which is a good thing for we kayak fishermen, helps to keep the suit looking a little cleaner.
​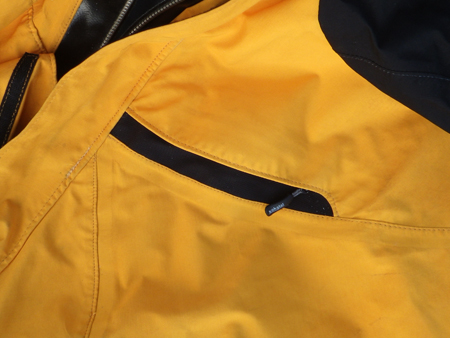 Breast Pocket
​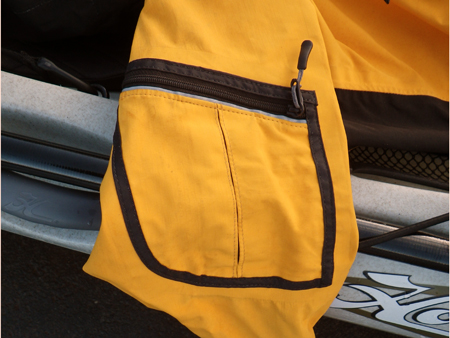 Arm Pocket
​
One thing I was aware of was that the suits material was a little easier to hook with lures, although none went close to the barb they didn't bounce off as they do with my own suit. I will say that any that attached themselves were easily removed as it was only points that snagged.
I obviously wasn't able to test the breathability of the suit in midwinter, however I didn't get hot even with the bear suit on and I certainly wasn't cold. My feet which are sometimes damp after a day on the water weren't which also an added bonus.
Overall the suit is definitely the most comfortable I've worn, it almost felt like a custom fitted suit, which is an option if you are outside of the Kokatat standard shape or height chart or just want a different colour combination, there is also a femail version of the suit.
Kokatat offer suit servicing, for around £30 they will pressure test the suit and repair any pinholes. If your latex seals require replacing then these will be done for a minimal fee. At present the suit has to be returned to the USA which takes around two weeks to turn around, this will be changing and as of June 2014 SystemX will be able to perform this service in the UK.
​
After care.
​
The Kokatat Gore-Tex® Expedition can be hand or machine washed on a cool cycle with using a liquid detergent, the suit should be hung to dry, not spun.
​
Would I buy one?
​
Well the initial cost is a stumbling block, however Gus tells me there are now finance options offered which helps with this… so I am having negotiations with my wife, it's a lovely drysuit and once worn you don't really want to go back to your old suit.
​
For more information on Kokatat suits visit their website: kokatat.com
or to purchase one from Gus at Escape Watersports: escape-watersports.co.uk and give him a call to discuss those finance options.