Bait Cutting Board
​
My Hobie Revolution 16 is going to be used mostly out on saltwater. Some trips will be lure fishing for pleasure, the rest of the time I'll be using it to compete in some of the saltwater tournaments around the UK, these are mostly specimen hunts which are best fished with bait if you want to be competitive.
​
Having somewhere to cut up bait was needed so I've adapted an idea pinched from Rob Appleby-Goudberg's Hobie Outback and adapted for the round hatch on the Hobie Revolution 16.
​
All that is needed is a cheap cutting board, the one I have used was from Wilko's for under £2, IKEA do them as do most other houseware stores.
​
First job was to drawer around the hatch cover. I placed a piece of paper on the hatch infront of the hinges and rubbed around the edges to pick up the edge of the hatch and the toggle latch/handle. Then cut out the circle and hole for the toggle/handle.
​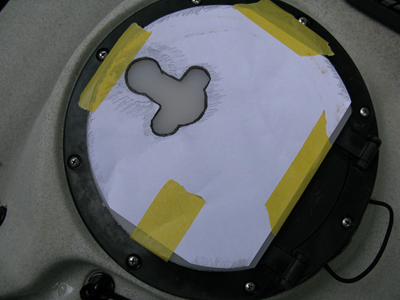 ​
The squarer you can get this on the hinge side of the hatch the better as you can then place the flat edge against the flat edge of your cutting board saving a cut.
​
Trace the shape onto the cutting board and cut with a jigsaw. Take your time and get an nice smooth round edge. The cutting board does sand very easily should you need to tidy a little.
​
Clamp the cutting board on the hatch and make sure that it will open fully with the board in place. Adjust it if needed.
​
I then cut out the shape for the Latch/Handle with a hole bore drill bit. This is a superb drill for working on the kayak as it's multiple drill bits in one, just drill deeper for a larger hole.
​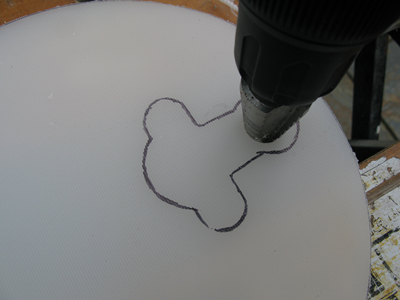 ​
A few holes later we were getting there.
​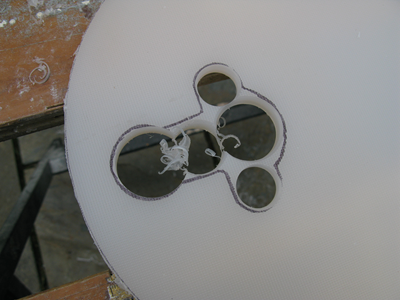 ​
All that was needed then was to run a jigsaw along the straight edges and a bit of sanding/filing to clean it all up.
​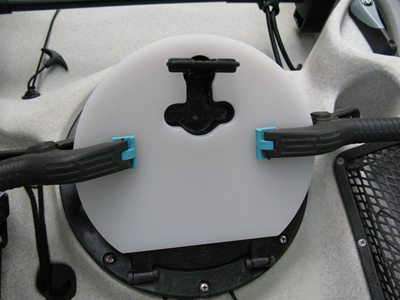 ​
Check again that everything works by clamping the board in place on the hatch, make sure the toggle/handle can be got at and turned, that the hatch will open fully so that your tackle box or Hobie Gear Bucket can be removed easily when required.
​
Once all OK time to fix permanently. I used 4 x countersunk bolts with washer and nuts on the inside of the lid. I drilled from the inside of the lid using the square mouldings to get the screws in a uniform position.
​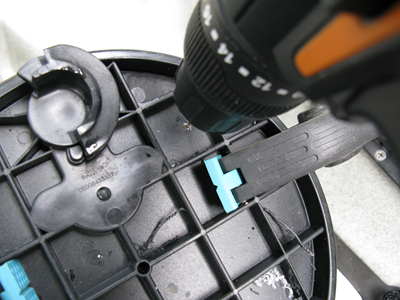 ​
Job done, with the bolt countersunk. The board can be replaced should it get cut up to badly or if I fancy a change of colour!
​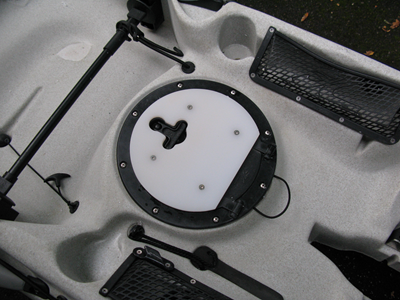 ​
Just incase you are wondering what the loop of rope in front of the hatches on the Hobie Mirage 180 Drive kayaks is for, its to slip the Forward/Reverse toggles under to keep them out of the way.
​