The Crate
​
Finding a crate that fits the tank well securely is sometimes difficult, the one that fits usually looks surprisingly large.
The discovery of the Prowler crate was by shear accident. My wife loves storage boxes and had purchased several collapsible 32 ltr boxes from Tesco's at less than £2 each, one of which had found it's way into the garage. It was empty so it seemed like an idea to see if it would fit.
With minor shaping of the rear bottom corners with a file, the fit was perfect.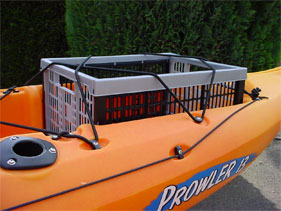 First thing I needed to do was add storage for the anchor, stopping it from sliding around but with easy access. Whilst looking around the chandlers, I came across a white plastic anchor holder, designed to hold a 1.5kg/3lb folding anchor, made by TREM of Italy, product code N 62 00 500, perfect. It was supplied with the necessary bracket and bolts, so all that was needed was to drill 2 holes slightly lower than the existing ones in the holder and file the holes in the crate to accommodate the bolts. Fitting the holder to the inside corner of one of the ends still allowed the crate to fold.

Next job was to tie a length of bungee cord to hold the bait cutting board, again this was placed on the inside of the crate next to the anchor holder.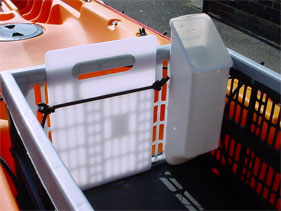 Nylon bait cutting board and anchor holder.
At the opposite end I have fitted a Scotty Mounting Bracket No. 241 and Rail Mount Adapter No. 242, this allows the use of a Scotty SEA-Light No. 824. The holes in the crate had to be filed with a round file to allow the bolts to fit, doing this carefully will also make for a very secure fit.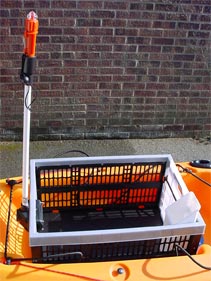 Scotty SEA-Light fitted to rear of crate.
Amazingly the crate still folds.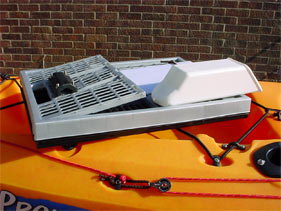 ​
Finally I wanted a bag to fit in the crate to hold frozen bait, odd bits of tackle, fly/spinner boxes, my camera, and every thing else during a journey in the surf.
A trip to Robert Dyas found a 44 litre, Thermos K2 Collapsible Large Family Cooler, it has an external pocket for a phone or radio secured with a bungee and sliding toggle. Beside this is a large two section zipped pocket. The main part of the bag opens with a 3 sided zip.
The outside of the bag is made of a water resistant material, the inside being covered in an easily cleaned pvc. Best of all it's light and folds for storage.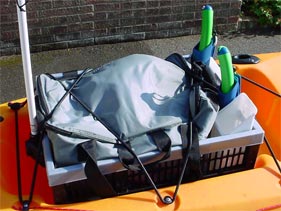 ​
Cool bag secured with Prowler standard bungees, XTOOLS Floating 8" Fillet Knife and Floating E-Z Release, fit neatly and securely between the cool bag and cutting board. The bungees are released whilst fishing to allow easy access.
​