Laying Out Fittings
With the Malibu II XL having three seats and endless possibilities for fitting out, we have waited for all the rod holders, mounts, fish finder and hatches to arrive before proceeding.
The intention is that this kayak will allow two adults to fish in comfort and also have fittings in a position that two small children can also enjoy a few hours fishing on a calm summers day with their dad.
Because of the child factor we didn't want the deck to be too cluttered, we needed easy access, easy to climb aboard and jump out without tripping over mounts and ropes.

We have chosen to use Scotty's flush mounts, which the Malibu II XL's gunwales have been designed to accommodate. The Scotty flush mounts will allow us to swap and change rod holders depending on who is fishing and which rods are being used, those mounts not used remain unobtrusive. A pair of Ocean Kayak flush mounts are going to be fitted behind the rear seat position, facing back and a second pair beside the Oval Gaspachi moulding at the centre of the Malibu II XL, these will face forward.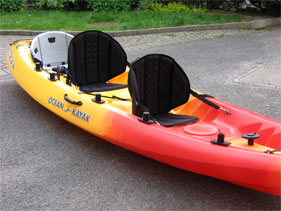 ​
First job was to fit all three seats, two seats with bags in the front two positions, giving access to the bag to the paddler behind, and a standard seat to the rear.
Taking a turn in each seated position, we held a rod in a rod holder whilst simulating paddling to check clearance, the mount position was marked, then the position was rechecked whilst sat and paddling in the next seat. The kids were then called and rod mounts positioned so that they could reach rods when seated. This is only necessary for the front two seated positions as the rear seat will always be used by an Adult.
A Scotty Round mount will be positioned centrally between the front footwells and aligning with the mount on the gunwale, this will enable us to use a Downrigger for trolling lures and dead baits, something we want to experiment with this year.

When complete we will have 15 different rod positions to chose from!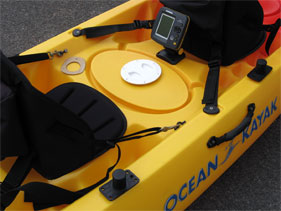 ​
Next up the Fish Finder, we have chosen the Humminbird 141c a very compact unit with colour screen.
Positioning this was a bit of a problem, would have liked to mount it on the Gunwale, but want a permanent fixture. Access to the controls was necessary from the rear seat when paddling two up, but the display also needed to be far enough away from the centre position so as not to be in the way when paddling solo. Thankfully there is room behind the forward seat and in front of the oval Gaspachi Hatch.
​
Disclaimer:
Installing hardware may cause damage and/or void manufacturer warranties.
The information we provide is a free reference guide only. The author of this information, sponsors and the owners of the website that host this information are not liable for any problems or issues that arise from the use of this information. Users of this information hereby acknowledge that all use of this information is done by their own free will, at their own sole risk, understanding that injury or death could occur.