Hobie Revolution 13
The excellent Hobie Revolution 13 offers a fast modern sleak design to the Hobie Mirage Drive range of kayaks. At 13 feet 5 inches (4.09 metres) long and 31.52kg with standard fittings the Revolution 13 is still a single handed car toppable kayak.
​
The first thing that I did after ordering the Revolution 13 was to check out the Hobie Fishing Accessory Range. The catalogue offers everything that you could ever want or think of, it includes many products from the main kayak fishing accessory manufacturers such as RAM and Scotty.
​
I was like a kid in a sweet shop, ordering several upgrades to the standard gear, such as the tunable Turbo ST Fins which are a must have on the Revolution 13, as the name suggests its like fitting a turbo to the kayak. A Sail Kit was ordered along with a larger rudder to keep control under sail and increase the kayaks turning ability. Then came the Hobie Live Tank Well, when you break down the cost of all the parts included in this package... it includes everything you need right down to a battery and charger... it really is good value for money. We also ordered the Hobie Anchor Trolley Kit.
​
Lowrance supplied us with their Down Imaging Elite-4 DSI. A compact unit which delivers excellent detail on its LED screen. The Elite-4 DSI has a built in GPS which can be upgraded to Navionics charts via a SD card.
​
We'll be fitting all of the above and more using our step by step guides.
​
Award Winning Project
​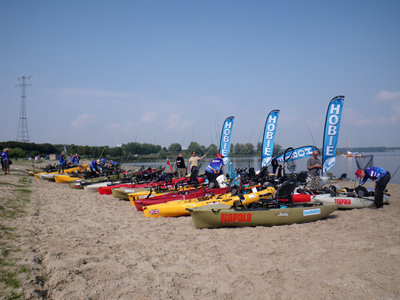 ​
At the first Hobie Fishing Euro's 2014. Our Hobie Revolution Project was voted "Best Kitted Kayak" by the competitors at the event, to have been awarded this by my fellow European Hobie Team mates was a very humbling experience, thank you.
​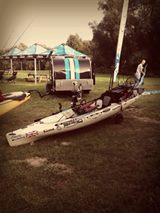 ​