• Laying Out Fittings
• Fitting a Gaspachi Hatch
• Central Cargo Net
• Fitting a 4" Screw Hatch
• Fitting Scotty Flush Deck Mounts
• Flush Rod Mounts
This year we start our third project kayak, once again with Ocean Kayaks kind support we have decided upon a three seater, the Ocean Kayak Malibu Two XL. This should prove an interesting project as with the possibility of carrying a crew of three, deck space will be at a premium.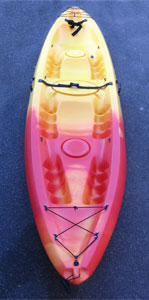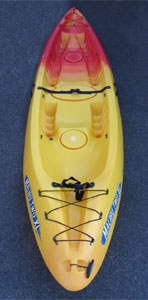 Project Malibu Two XL
Length 13' 4" (4.1 m), Width 34" (86.4 cm), Weight 61 lbs (27.7 kg).
Maximum weight capacity 450-500 lbs (204.1-226.8 kg) depending on water conditions.
​
Disclaimer:
Installing hardware may cause damage and/or void manufacturer warranties.
The information we provide is a free reference guide only. The author of this information, sponsors and the owners of the website that host this information are not liable for any problems or issues that arise from the use of this information. Users of this information hereby acknowledge that all use of this information is done by their own free will, at their own sole risk, understanding that injury or death could occur.