Ocean Kayak Elite 4.5 - Petrol Jet Drive Engine - Manuel "Albatros" Málaga, Spain
My Ocean Kayak Prowler Elite 4.5, driven by an adjustable water nozzle, motobomba 40 cc, weight 8.5 kg and speed of 0.1 to 5 knots.
I have been some time wanted to motorise my fishing kayak, having checked out many electric motors and petrol engines, there was nothing that fitted my needs. All of the options available were a little heavy and all had a propeller, what I really wanted was something different, jet propulsion.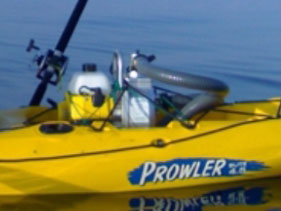 Motobomba 40cc petrol engine in tankwell.
​
Jet propulsion would be safer around rocky outcrops and shallow water, there would be less chance of tackle fouling around the propulsion system a propeller could be a problem, the balance of the kayak would be less upset by the weight of the motor and associated batteries and there would be less drag when paddling.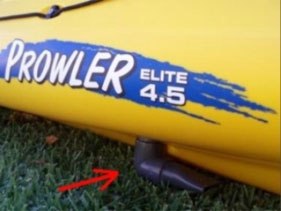 Jet drive pipe work.
​
My only other safety concern with my chosen engine was a safety cut out system which proved successful on testing.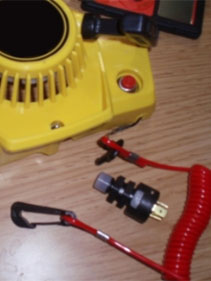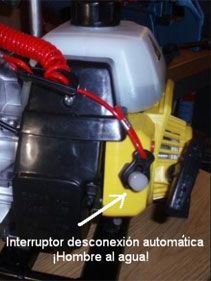 ​
Picture on left shows safety cut-out components and picture on right shows them in place on the engine.
The first sea trials were successful, speed and safety were satisfactory, but some details still need refining, the noise level needs reducing, method of steering techniques improved and engine/jet efficiency.
Many details are left out from this article but this project is work in progress, but one I am excited to share with my fellow kayak fishermen from around the world.
​
Disclaimer:
Installing hardware may cause damage and/or void manufacturer warranties. The information we provide is a free reference guide only. The author of this information, sponsors and the owners of the website that host this information are not liable for any problems or issues that arise from the use of this information. Users of this information hereby acknowledge that all use of this information is done by their own free will, at their own sole risk, understanding that injury or death could occur.