Hobie Rudder Upgrade
Even if your not going to do a bit of sailing it may be worth considering upgrading the rudder to one a little larger, the extra length of the rudder upgrade could be of huge benefit in a lumpy sea where a shorter rudder could leave the water leaving you without any control over your direction, in these conditions there is always the option of using the paddle which is supplied as part of your Hobie Package when you purchase a kayak from new.
​
If you can't afford the Hobie Kayak Rudder Upgrade, there is always the option of fitting a second hand Hobie Cat rudder. This is what we have done with our Revolution 13, its a simple upgrade, just unbolt the 6 bolts and fit the new rudder, adding a little loctite to each bolt to ensure they stay secure.
​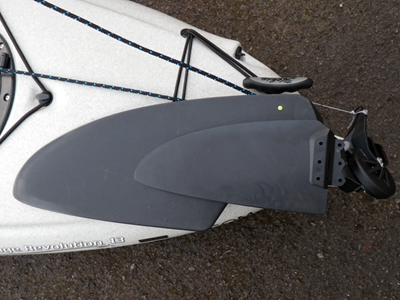 ​
As you can see from this photograph with the standard rudder layed over the top of the Hobie Cat rudder there his a huge difference in size. The little green dot is where the Hobie Cat rudder had a rivetted fitting, we cut it off and simply melted a piece of golf tee into the hole, flattening it on each side with the flat edge of a large screwdriver.
​
We also sanded out any nicks and burrs on the secondhand rudder to reduce any changes of snagging or damaging our fishing line.