Grapnel Anchor - Bill Sherman (Yakity-Yak-U.K.)
Easy to make and cheap to replace.
Chances of retrieving over rocky, snaggy ground are better than average.
All that is required is 6/7" of 1" copper pipe, 2 x 2 ft lengths of wire and some scraps of lead.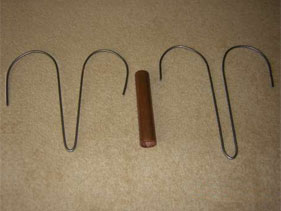 Firstly bend the wires in half, then curve ends back up as shown in the photograph above, this should all be possible by hand. Slide the two pieces of wire into the copper pipe pushing one piece out of the top by approximately one inch, the other piece should sit just inside the pipe as in picture below. Position wires at right angles to each other and if necessary a lead ball weight can be placed inside to hold in position.
The top section of the anchor (loop end) now requires sealing this can be done with a plastic wood mix (twin pack mix) or small wooden plug or cork. Whatever is used the top must be sealed to about an inch in depth and heat proof.
Secure anchor in vice or dig hole in garden and insert anchor, loop down and ensure secure.
Carefully heat some lead scraps in an old saucepan till molten, carefully pour into copper pipe. Leave to cool. The anchor should weigh about 1.5 lbs

​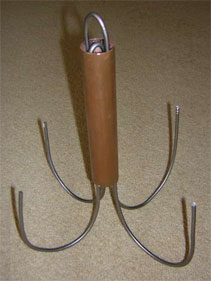 .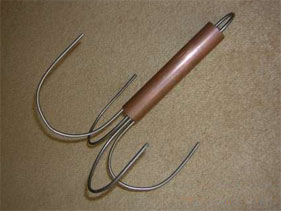 ​
​
Disclaimer:
Installing hardware may cause damage and/or void manufacturer warranties. The information we provide is a free reference guide only. The author of this information, sponsors and the owners of the website that host this information are not liable for any problems or issues that arise from the use of this information. Users of this information hereby acknowledge that all use of this information is done by their own free will, at their own sole risk, understanding that injury or death could occur.