Scupper Pro TW
Our Scupper Pro was put together very quickly, almost overnight infact, it arrived only a few days before we were due on the ferry to the Channel Islands for a demo day and t kayak fishing tournament on the island, so, no step by step guides, just a few photographs of our setup.
​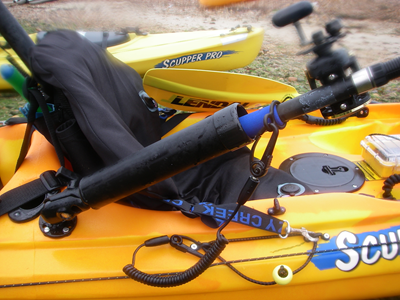 ​
First job was to fit a pair of RAM-119 Rod Tubes, we love these rod holders, they are a simple no nonsense design which are perfect when fishing a pair of rods at anchor, the rods and reels are in the perfect position for a strike and best of all you can rest your arms on the tubes like arms on an arm chair.
​
You can also see in this picture the paddle keep which is a very easy to fit edition, using the existing pad eyes a rope ball, length of bungee and a rope hook.
​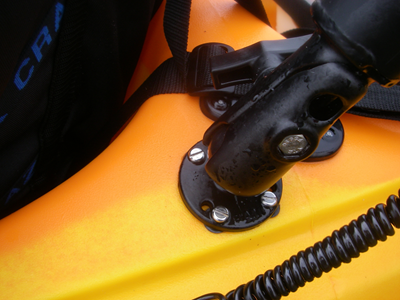 ​
We used well nuts for speed, we've never had a failure with them so continue to use them, always inserting with a smear of silicone sealant around them before fixing.
​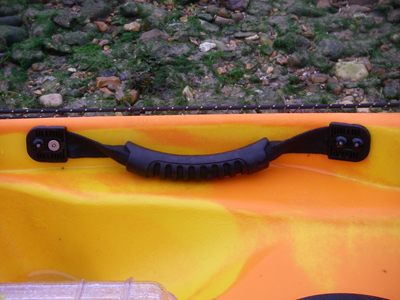 ​
Side handles were double riveted inside the cockpit at the centre point, makes lifting and carrying a lot easier, if fitted on the outside they will be in an awkward position.
​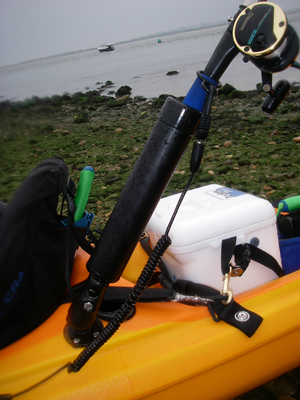 ​
The white cooler was a great find in a tackle shop in St Peter's Port Guernsey, designed as a bait cooler with fittings for a pump its the perfect size to fit beheind the seat in the tankwell. a couple of webbed straps were added with brass carabiners to keep it secure.
​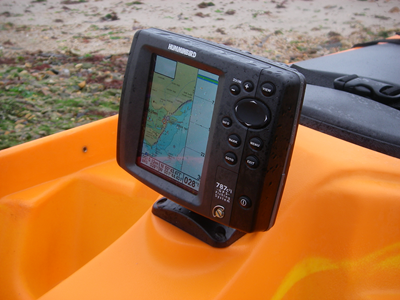 ​
Our Scupper Pro was prior to the Scupper Hole Transducer update so we epoxied ours inside the hull all cables running through the foot of the Humminbird 787ci2
This is a superb finder which we use complete with a set of Navionics Gold charts on a SD card.
​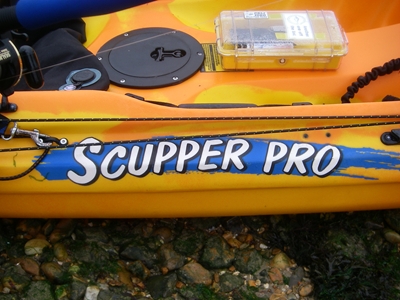 ​
We like to have a hatch infront of the seat, but we hat screw hatches, they seize and they leak eventually down through the threads, so we opted for an Ocean Kayak Cam Lock hatch which has proved superb, very easy and fast to use and keeps a good seal. Below our hatch we have our old favourite the Ortleib washing up bowl to keep everything tidy and within easy reach.
​
In front of the hatch we have bolted a Peli Waterproof case, this fits perfectly to the width of the centre console on the Scupper Pro, we utilised one of the existing brass bolts for this and just bolted another through the cockpit to hold tight. This is great to keep bits and pieces in but its worth nothing that it is no longer completely watertight.
​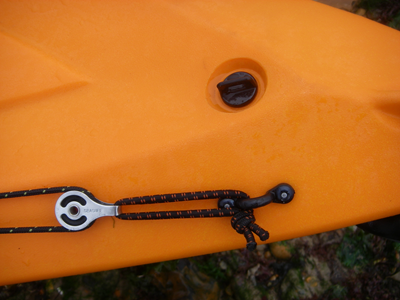 ​
Anchor Trolley next, a must for where we were heading with some of the biggest tides in the United Kingdom. We used our tried and tested system, fitting a pad eye up forward next to the bung.
​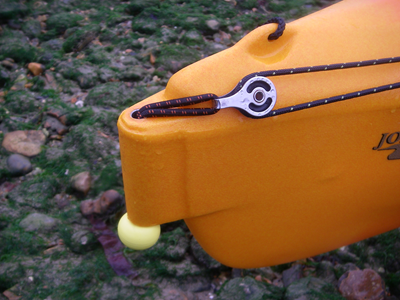 ​
and feeding a piece of bungee with a roller pulley through the rudder fitting in the stern, using a rope ball to make it all neat and tidy.
​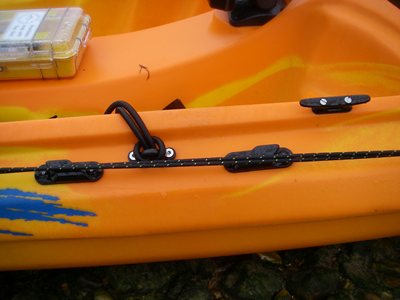 ​
Camlocks were used as on previous projects to lock off the anchor trolley and a small cleat fitted to the gunwale to aid safe hauling of the anchor. This was the trickiest thing I have ever fitted, it took a good hour and a sense of humour to get the nuts and washer on the bolts and tight!
​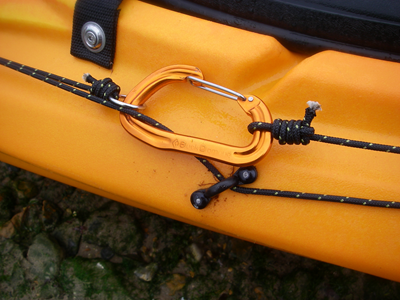 ​
And finally further padeye was added alongside the drainage slit by the front hatch, this allows you to push the carabiner up tight when paddling, keeping the anchor trolley tight and tidy against the kayak, even along those beautifully curved lines.
​