• Prowler Seat Upgrade
• Fitting a Scotty Triple Rod Holder
• Fitting Ocean Kayak's Flush Mounts
• Making Rocket Launcher Style Rod Holders
• Installing a Fishfinder v2
• Anchor Trolley System
• Anchor Trolley System for 2007 Prowler 13
• The Crate
• Fixtures and Fittings List
For the 2005 season we will be building our second project kayak. Once again Ocean Kayak have been kind enough to support Anglers Afloat with this project. Our choice of craft being the increasingly popular Prowler 13, we decided not to get the Angler version just so that we could compare the installation of the flushmounts with those fitted to the Caper.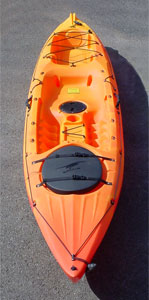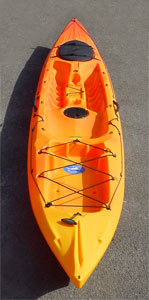 Project Prowler 13
Length 13' 4" (4.1 m), Width 28" (71.1 cm), Weight 54 lbs (24.5 kg).
Maximum weight capacity 400-450 lbs (181.4-204.1 kg) depending on water conditions.
​
Disclaimer:
Installing hardware may cause damage and/or void manufacturer warranties.
The information we provide is a free reference guide only. The author of this information, sponsors and the owners of the website that host this information are not liable for any problems or issues that arise from the use of this information. Users of this information hereby acknowledge that all use of this information is done by their own free will, at their own sole risk, understanding that injury or death could occur.