• The Plan
• Part 2 - Tankwell Hatch and Rudder Mount
• Part 3 - Mounting the Torqeedo and Finishing the Tankwell Hatch
• Part 4 - Rudder Control Cables
• Part 5 - Torqeedo Controls
• Part 6 - Finishing Touches
​
Project Trident 11 is a move away from the traditional paddle craft and our first installation of an electric motor in the guise of the Torqeedo Ultralight 402.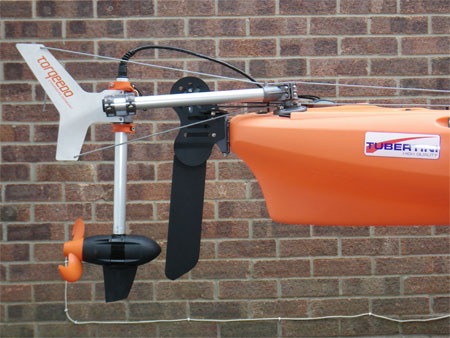 We have chosen the non angling edition of the Trident 11 for our project, the main differences being there are no flush mounts and the rod pod is not cut out of the deck and therefore no cover, mind you there is still the obligatory cup holder! Although most of the fishy bits are missing from our T11, the brilliant transducer/Scupper hole is still present in the hull.
The Trident 11 is a great choice for the lure/fly fisherman who fishes on rivers and lakes, but also likes to fish estuaries during the summer months. Our first impression was how light the T11 is, easily managed and car top able.
We are still deciding on how and what to fit on the T11 but please keep popping back to see how we are getting on.
​
Disclaimer:
Installing hardware may cause damage and/or void manufacturer warranties. The information we provide is a free reference guide only. The author of this information, sponsors and the owners of the website that host this information are not liable for any oproblems r issues that arise from the use of this information. Users of this information hereby acknowledge that all use of this information is done by their own free will, at their own sole risk, understanding that injury or death could occur.
​